Build your WHOLE HOME
EMF Radiation-Free with EMF protection and avoidance incorporated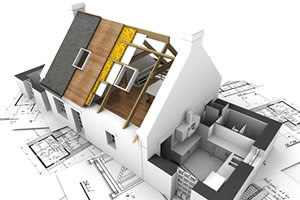 When designing and building a home the comfort but also the health of the occupants needs to be thought about. With an ever-increasing exposure to EMF radiation from cell phone towers, 5G, etc. shielding against EMF radiation in a house is possible and a valuable feature of your new home. In this 'Whole House EMF Radiation-Free Building'-course, we will teach you what is important in planning and building a whole house EMF Radiation-Free.
Maximum 8 Students to keep it personal
In this course by Patrick van der Burght various facets of the tiny house building process in relation to EMF radiation protection and avoidance are taught at a homeowner/builder level. Including:
EMF Radiation types you should know about and what causes them
Site Selection – Place your home in a good spot
Selection of normal building materials for your home and their impact on EMF radiation
EMF Radiation shielding and avoidance philosophy
EMF Radiation mitigation materials
Shielding techniques
Shielding application
Grounding options
Plan Analysis – Investigate your own plans and form your EMF approach
Duration and process of the WHOLE HOUSE
EMF Radiation-Free Building course
The course typically runs over 4 weeks with 4 weekly online review meetings.  You'll get access to a tailored Online Knowledge Centre (OKC) where you access the training videos and materials, and do your study by watching videos during the week when it suits you (including leading up to the first online session). During the online review sessions, you'll review what should have been learned and you can ask questions. You maintain access to the Online Knowledge Centre after the course (!) for as long as we keep hosting the course material with the hosting service we use.
YOU SHOULD SIGN ON BEFORE THE STARTING DATE BECAUSE YOU NEED TO INVEST A FEW HOURS IN PREPARATION FOR THE FIRST REVIEW SESSION
Interaction with the presenter is possible in this live/guided version of the course which has many benefits and can alleviate some uncertainty about your interpretation of the materials. But it has another major advantage…
Get your building plans and strategies looked at
During the course, the PLANNING process is of course discussed. You need to know how to look at your own plans, identify the EMF sources you would normally create, and plan to avoid or mitigate against them.
In this course, you have the opportunity to assess your own plans for your home, present them to the group and receive feedback on your approach by Patrick van der Burght and perhaps your fellow students.
Parts of this course may be recorded by us and then also made available for review in the OKC for later review by you and others.
When: 4x online sessions of about 1-2 hours, starting on Wednesday 6am Melbourne time.
COUNTDOWN TIMER TO THE FIRST SESSION
REGISTER NOW for the WHOLE HOUSE EMF Radiation-Free Building course
To attend this event, please follow this link to the shop and secure one of the remaining spots before they are gone. You can pay with your PayPal account or an accepted credit card.
After payment, you will receive a link to register for the Zoom meetings.

Don't forget to print, fill out and email us your registration form promptly or your spot may be allocated to someone else and your payment refunded.
PLEASE NOTE: Access to the Online Knowledge Centre will start within 2 weeks of the first review session.
More interested in assessing existing homes and mitigating against EMF radiation as a career option?
Patrick's signature 'EMF Assessment & Mitigation Business Start-Up' Course, is setting the standard for learning about EMF radiation and actually starting your business doing so. Find out more here.