FREE EMF Radiation Assessment and Mitigation Training
Join us for a series of FREE training session in PRO-level EMF radiation assessment and protection knowledge, most of which is taught in GEOVITAL PRO EMF Consultant Training. Learn about assessing EMF with amateur or professional meters, what causes EMF radiation, what you can do about it with verifiable solutions and how to plan an EMF protection approach.
Forty Free training Sessions on EMF protection were offered in 2021!
After a raving success in 2021, when well over 100 people participated and joined us across no less than FORTY sessions which spanned FIVE MONTHS… we are doing it again! TWO time slots are available to suit all so we can be there LIVE and interact and get to know each other.
FIND THE REGISTRATION LINKS BELOW
Learn about EMF radiation for Free
Patrick van der Burght is one of the most experienced trainers in the EMF assessing field through his work for GEOVITAL and taking care of GEOVITAL's English courses. Patrick will be hosting, for an unknown length of time (depending on turn up and engagement… last year we did TWENTY WEEKS!!) a series of short webinars that will cover in incredible depth the EMF assessment and mitigation procedures he teaches in his PRO-Level program the 'EMF Business Start-Up Course'. You will learn in one of two different time slots to cater for all time-zones (no replays), in bite-size pieces, about EMF radiation, how to assess it, variables, use of amateur meters and professional meters, mitigation logic and approaches and more.
The subjects that will be covered will be vast:
Magnetic fields from outside
Magnetic fields from inside the home
Magnetic fields from wiring errors
Magnetic fields from stray current in the area
Magnetic fields from appliances
Electric fields from outside sources
Electric fields from internal wiring
Electric field behaviour around people
Radio frequency radiation from outside source like phone towers, radar, airport navigation, wifi
Radio frequency radiation from internal sources
Radio frequency radiation devices you wouldn't expect
Dirty Electricity
Amateur EMF meter use
Amateur EMF meter selection/differences
Amateur EMF meter limitations
Professional EMF meter use
Professional EMF meter differences
Professional EMF meter limitations
EMF radiation mitigation strategies for magnetic fields
EMF radiation mitigation strategies for electric fields
EMF radiation mitigation strategies for RF radiation
EMF radiation mitigation application…
the list can go on……
Patrick van der Burght is one of the most experienced and most travelled EMF consultants and trainers globally. Training PRO-level students from around the world and assessing homes in many countries of ordinary families, corporate high flyers and even royalty. EMF radiation-free home construction projects are his passion and training people to help others with the so common EMF radiation problems in homes.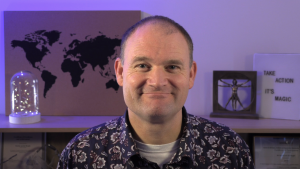 PRO-Level EMF Consultant training can be a lot of FUN! (Especially when Tom (above) is around…) Join us in training and become part of a great team of like minded people.
Two Convenient Time Slots to Cater for all Time-Zones
Everyone around the world is affected by EMF radiation and we like to cater for everyone. Therefor 2 time slots have been dedicated to on which a live broadcast will be made. We'll keep it short and sweet each time but there should be time for some quick questions.
No replays – Let's get to know each other
In these free but in-depth sessions, we get a loyal group of people attending live and its a lot of fun to get to know each other a little. There might even be some rewards down the track for attending… We mis this connection with the 'replayers' so we have decided to stop making replays available. With two time slots, we trust you can fit this in your day if it is valuable to you.
Why is Patrick sharing so much about EMFs?
It is nice to educate people especially when there is so much wrong information floating around and products being pushed that make little or no sense. The other reason is that we are in need of more professional consultants around the world. We hope these greater insights will ignite a spark in you like it has in us for so many years. We'd be delighted to see you in professional training if you want to make a difference in the world.
IMPORTANT BEFORE YOU REGISTER – Can't keep it going without your help
If you want these free sessions to keep going (like they did last year… 40 unique sessions over 5 months), you need to do your part. Patrick is not going to keep hosting sessions when only a small group attends or the numbers are declining. Our industry seems censored by search engines and only by you, directly sharing this with others by mail and posts on all your social media connections, will this grow to an impressive group like it did last year. Share this page, anywhere people might be interested.
Register Now for FreeAccess
Get reminders when the next session is on. Register now and show your support for this initiative by sharing it with your friends.
Early Sessions start on Monday 12pm LA, 3pm New York, 9pm Vienna, 11pm Dubai. Tuesday 3am Singapore, 6am Melbourne
but will shift as we experience daylight saving time changes
REGISTER for the EARLY SESSIONS
Late Sessions are held Monday 11pm LA, Tuesday 2am New York, 8am Vienna, 10am Dubai, 11:30am Mumbai, 2pm Singapore, 5pm Melbourne
but will shift as we experience daylight saving time changes
REGISTER for the LATE  SESSIONS
Listen to some who have experience with Patrick