Public Speaking – Business Focus Sessions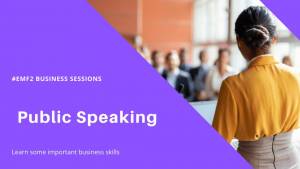 This session is for the students of the EMF Business Start-Up course (committed to doing EMF1 + EMF2) and is part of their 12-month access to EMF2 Business Sessions. 
Becoming a good public speaker can enhance your reputation, boost your self-confidence, and open up countless opportunities.
If you speak well in public, it can help you get in front of more people, raise awareness for your team, organisation or ideas, and educate others. The more you push yourself to speak in front of others, the better you'll become, and the more confidence you'll have. This can help you present to groups of health clients, an audience at an expo, give webinars more easily and more.
In this business session, you will learn about public speaking.
Preparation
Using Power Point presentations as a guide
Utilising your MC well and preparing an introduction
How to begin
Engaging your audience
and more
EMF2 students have 12 months of access to our Business Sessions from enrolment and will be invited directly.
Other business sessions for new students of the EMF2 program are held throughout the year on subjects like:
Communication Skills
Photography and Videography
Social Media Marketing: Facebook, Youtube, Twitter
Body Language
Public Speaking
Video Webinars
Content Writing
To access this session, you need to be a student of the EMF1 AND EMF2 course, and you'll be invited to these events. These sessions are often not available to outsiders.