EMF3 Practical EMF Radiation Assessment Workshop – Melbourne, Australia
If you wanted to start helping others with EMFs, why learn just about EMFs in theory when you can practice actual home assessing under the supervision of one of the world's most recognised trainers. Conclude your training in EMF assessment and mitigation with this in-person small-group workshop. Doing actual EMF home assessments in houses and learning to assess geopathic stress in nature.
Maximum 6 students for the practical EMF workshop!
Completing Patrick's Online Training (EMF1) is a prerequisite to doing the live-workshop EMF3.

EMF Workshop in Melbourne, 23rd, 24th, 25th, and 26th of November 2023.
For a full explanation of the EMF Business Start-up Course that this EMF Workshop can be part of, visit the information page
Dates and times guide for international participants
Sign up for a course in which all dates and times meet your availability.
Live Online Sessions
Melbourne
Australia
PST
eg Los Angeles
CST
eg Chicago
CST
eg New York
UK
Singapore
Online Prep Meeting for the first date
TBA
TBA
TBA
TBA
TBA
TBA
Workshop Melbourne, Australia
Thur to Sun
23rd to 26th November
2023
come to Melbourne
come to Melbourne
come to Melbourne
come to Melbourne
come to Melbourne
Requirement

to book suitable accommodation

In order to give you practical experience, we need places to assess. Part of doing this course is that when you come to do the live workshop component, you book accommodation that we are allowed to visit once during your stay with the small group of students and assess and investigate. This is what gives you practical experience. If you have friends or family you will be staying with, it's fine for us to investigate their home. The price of this course is set based on the fact you use accommodation we can visit and investigate (turn circuits on and off etc). If you do not 'bring' a home as a practice, then the course fee is U$400 dearer and we'll aim to rent a house to provide the practice.

We may not use all accommodations of students. We may also organise homes of members of the public to assess.

For rental accommodation, we have checked a few homes and owners are fine with us practicing. Please use this approved accommodation unless otherwise agreed. A rental car for you to use would be handy to make it to the training area in the morning, but failing this we can offer a pickup and drop-off after class.

You find some accommodation we used in the past, below.
Want to do another EMF3 workshop, just for the added practice?
Why not join us again? – For those who have already attended an EMF3 (In-Person) workshop, you can join us again.
FINDING SUITABLE ACCOMMODATION
During the course we will be practicing the art of home assessing in homes that the students rent for their stay. It is therefor important to book suitable accommodation (or organise a friends home in the target area) that gives the opportunity to learn. For example, a bedroom-only (hotel) accommodation would be UNSUITABLE.
We need you to book/supply a home with at least 1 bedroom and a 'living room', and we need to have access to the circuit breaker panel to do our testing. You may wish to ask the host of the accommodation that you are considering booking, that you (being a student of environmental medicine) sleep better when you are able to turn the electrical circuits off. If the host tells you that you can, then you know you have access to them.
Location: To optimise our travel time through the area between home assessment practice and in-the-field skills practice, we need homes to be relatively close together. Below is an image of the target area in which we'd like you to book your accommodation. If you are in doubt, ask us.
HOMES of members of the PUBLIC
We also tend to notify our followers in the area of this workshop that FREE home assessments are available to suitable homes of members of the public, during this workshop. The public is asked to email us their location and a short description and make up of the home, and show us a photo of their circuit breaker panel. We can then select homes that suit out travel restrictions and teaching goals. The home owner needs to be there for the assessment of course to ask questions of the consultant (in training) under the watchful eye and ear of the senior consultant.
Home assessments with members of the public are typically preferred over rented homes for sake of practice, because the home owner adds another factor to learn from. It may therefor be that not all rented homes by students will be assessed.
Target Area for Homes in EMF3 workshop Australia
The smaller circle is for students to book their accommodation in. We may be able to offer a pick-up in this area for students without car. Also for travel, having homes in this circle gives us more time.
The outer circle represents the target area for homes of members of the public that would like to offer their home for a free assessment by the students.
Accommodation suggestions for students
Weekend Get Away, Dandenong Ranges – The Basin
Located in the foothills of the Dandenong Ranges, This stylish 3-bedder has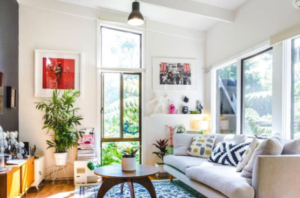 3 rooms with built-in robes for your convenience are available. easy access to the tourist roads to Sassafras (10mins) and beyond.
Address: The Basin
View on Google maps
Comfortable Sunny Unit, Ferntree Gully
Your light-filled unit is near Ferntree Gully Village, which has coffee shops, pubs, and essential services. A famous local attraction is the FTG National Park Kokoda Trail 1000 Steps—it's quite a challenge. Gentler outdoor activities are also nearby.
Address: Ferntree Gully
View on Google maps
Kyoko's Place – Olinda
This home is set between the trees, a little drive up into the Dandenong Ranges. Cosy set up, older home, gorgeous setting. Access by stairs only from the car park. RF levels are not low here.
Address: Mount Dandenong Tourist Rd, Olinda VIC 3788
Entire place
View on Google maps (close to actual location but not exact)