WEBINAR: EMF Radiation Insights for Health Practitioners in Florida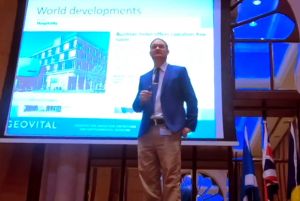 We are going to be sharing a very detailed overview of the EMF Radiation exposure as it impacts us and our patients now. This webinar is meant for conventional and complementary health practitioners who would like to know more about:
the subject of EMF radiation,
some of the extensive research available on this subject,
where this comes from within and outside patient's homes
what simple things can be done to reduce exposure that you could recommend to patients, and
based on our near 40 years of experience with patients in this area: what fundamental areas within a home will need professional attention to create a healthier and restorative sleep environment.
You'll be able to give advise on EMF radiation to your patients with a lot more authority and confidence
You know that the 'environmental' has an impact on our clients. They do too. Questions about transmission lines, smart meters and of course 5G may come your way already… but are you sure you're giving sound advise or are you simply dismissing their fears?
Come and invest a little time that will educate you and will help you help yourself, your family and your patients.
LIVE is BETTER: Whilst a recording may be available as replay for a limited time, it is far more beneficial to attend when it actually happens. You'll be able to ask questions and get some answers specifically important to you. – Make sure you keep the date and time free and attend. 
Your Hosts for the 'EMF Radiation Insights for Health Practitioners in Florida' webinar
Jason King
Jason King has trained with Geovital in Austria and Australia and lives in Florida USA. Jason is a veteran IT worker who took up investigating the impacts of electromagnetic wave frequencies on human and natural systems after 30 years of exposure to computer technology began to take an effect on him. Jason is also particularly interested in the societal impacts of untested and unsafe technology on the population at large and seeks a workable, balance between technology and human wellbeing.
MORE ABOUT or CONTACT JASON KING
Patrick van der Burght
Patrick is the Senior Managing Partner of GEOVITAL INTERNATIONAL and conducts most of the English training for the academy in Austria, Australia, North America and Asia, as well as extensive guided online courses. Patrick is available 'globally' to do home assessment, new home construction planning and speaking engagements on the subject of EMF radiation. He assist ordinary families, corporate high flyers, celebrities and royalty.